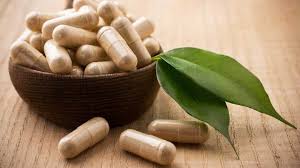 Ashwagandha root (Withania somnifera) is used mainly as a calming herb. This root provides many health benefits that include:
It helps to calm the nerves and soothe the body making it a great natural relief from stress and anxiety. It increases the body's ability to adapt to and resist stress.
It has anti-inflammatory properties that provide relief from Arthritis and Rheumatism.
Can be used to improve clarity of the mind and overall memory functions.
It is a good treatment for hypertension.
Neuroprotective
Contains antioxidants
It enhances stamina and is great for overall sexual health (known aphrodisiac)
Note: 100% Vegan capsules 
(Caution: If you are pregnant, nursing or suffer from Thyroid or Liver ailments, do not use this supplement.)

This information is for educational purposes only and has not been evaluated by the Food and Drug Administration. This information is not intended to diagnose, cure, treat or prevent disease.