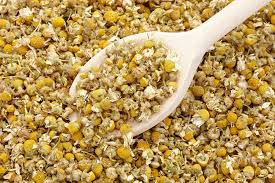 Chamomile flowers (Matricaria chamomilla) can be used internally or externally to treat many ailments.
Benefits of Chamomile Flowers:
Great relaxer or sedative
Helps to settle the stomach and calm the nerves
Excellent nervine for children
Used to treat colic, stress and stomach disorders in children
Can be added to bath water to ease pain and itching from skin irritations
Its anti-inflammatory properties can help with Ulcers, Crohn's disease and Colitis
Helps relieve seasonal allergy symptoms
Regulates menstrual flow
Relieves symptoms from drug and smoking withdrawal
Relieves nausea
Antibacterial
Treats Urinary Tract infections
Promotes restful sleep, reducing Insomnia
Relives Bronchitis
One of the best sources of Niacin, Magnesium and essential fatty acids
Has a delicious apple flavor!
(Caution: If you have an allergy to Ragweed, Chamomile could aggravate symtoms associated with certain ailments)
(If pregnant, use caution as too much Chamomile could cause spontaneous abortion!) Chamomile is fine in small weak doses such as a diluted tea
This information is for educational purposes only and has not been evaluated by the Food and Drug Administration. This information is not intended to diagnose, cure, treat or prevent disease.