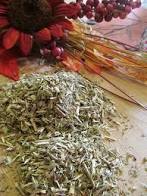 Hyssop (Hyssopus officinalis) is a wild shrub in the mint family with many nutritional benefits.
Benefits of Hyssop:
Defends the body  against infections
 Relieves respiratory conditions such as Bronchitis, Asthma 
Eliminates parasites in the gastrointestinal tract
Used to treat intestinal and digestive problems such as Liver an Gall bladder conditions
Provides relief from intestinal pain, gas, colic 
Increases circulation, which improves oxygenation throughout the body
Boosts immunity
Optimizes digestion
Reduces the pain and discomfort of insect bites and stings
Lowers blood pressure
Calms anxiety and stress
Functions as a diuretic
Rich in antioxidants
Antiviral 
Expectorant and cough reliever
Treats Bronchitis and Sinus infections
Contains Iodine, Carotene, Choline and various Terpenes
Enjoy as a tea or in a tincture.

This information is for educational purposes only and has not been evaluated Food and Drug Administration. This information in not intended to diagnose, cure, treat or prevent disease.