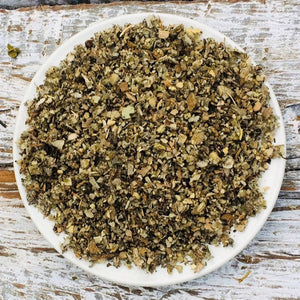 Mullein Leaf (Verbascum thapsus) is well known as a traditional treatment for respiratory problems. As a known expectorant, Mullein helps remove excess mucus from the lungs while soothing the mucus membranes. People who suffer from symptoms of Bronchitis, heavy coughing, chest colds and Asthma will find relief with Mullein. Both the leaves and flowers contain mucilage, which is what soothes irritated membranes, and saponins, making coughs more productive and expells phlem from the lungs. Mullein has anti-inflammatory as well as antiviral properties. It is a gentle herb so it it amazing for children!
Benefits of Mullein Leaf
Great for respiratory ailments.
Calms spasms and helps reduce swelling of the glandular system.
Has great anti-inflammatory properties that make it a good treatment for skin conditions such as ulcers, hemorrhoids, eczema and acne
It helps to soothe imflamed tissues.
Contains aromatic compounds that increase the flow of urine.
Flowers and seeds contain an essential oil that is used dto treat earaches.
Great as a general pain reliever.
Great to use as a mild sedative.
Mullein Leaf is also high in Iron, Magnesium, Potassium, and Sulphur.

This information is for educational purposes only and has not been evaluated by the Food and Drug Administration. This information is not intended to diagnose, cure, treat or prevent disease.