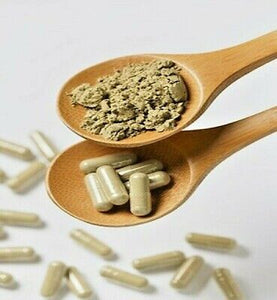 Sea moss (Chondrus crispus) is a seaweed also known as Irish moss. It offers a whopping 92 of the 102 minerals of which the body is made of. Sea moss is considered one of the most nutrient and mineral rich foods on the planet making it excellent for the entire body, inside and out! It also provides a wealth of other important nutrients including protein, beta-carotene, B vitamins, pectin, Vitamin C, and Sulpher.  
 Bladderwrack (Fucus Vesiculosus) is a natural seaweed found in the Atlantic and pacific oceans, that is named for the bladder like sacs on its leaves.
These two sea, superfoods make a power house combo. They are the quinticential dynamic duo!
Take 1 to 3 capsules, a day. (60 ct.)
Note: 100% Vegan Capsules
 *Safe during pregnancy, while nursing, and safe for children. No known drug interactions or side effects.
This information is for educational purposes only and has not been evaluated by the Food and Drug Administration. This information is not intended to diagnose, cure, treat or prevent disease.