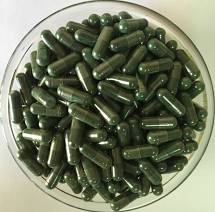 Spirulina (Spirulina platensis) is a blue-green algae, that grows on freshwater ponds. It is one of the most easily digested sources of protein and a highly concentrated source of protein. It is called a "superfood" because it's loaded with vitamins, calcium, amino acids, minerals, and chlorophyll.
Benefits of Spirulina:
Has been scientifically proven to inhibit formation of cancer cell colonies
55-70% Protein by weight, it's considered the greatest plant source of usable protein
Found to benefit Anemia, Cataracts, gastrointestinal disorders, Glaucoma, and Hepatitis
Helps balance blood sugar
Its contains all the essential Amino acids and most of the non-essential ones
Extremely high in Iron and Chlorophyll content
Has 26x's the Calcium content of milk
Has 35x's the protein of meat
Contains Phosphorus, B12, RNA, DNA, and is easily digested
Take 1 capsule, twice a day.  (60 ct.)
Note: 100% Vegan Capsules

*Safe during pregnancy, while nursing, and safe for children. No known drug interactions or side effects.
This information is for educational purposes only and has not been evaluated by the Food and Drug Administration. This information is not intended to diagnose, cure, treat or prevent disease.